Laboratory workers must complete online training courses that correspond to the type of work they will be conducting during research activities. These courses are accessed through the HR Compliance Qualification System. Instructions to access a course are provided under Registration Links. Workers who do not have a University of Iowa HawkID must contact EHS to request a guest ID in order to access these courses.
Contact information and areas of expertise can be found on the Contact Us page
Training Needs Assessment
At the time of the annual laboratory review, your safety advisor will complete a Training Needs Assessment with each lab. The assessment will identify each staff member in the lab and the required course(s), based on their research activities. If the assessment is returned to your advisor before the annual lab review meeting, the advisor will send you a Training Deficiency Report (see below). 
Information from the Training Needs Assessment is used to update EHS Assist, EHS's database, which verifies lab training. From EHS Assist, a Training Deficiency Report can be generated; this report will list the individuals and any outstanding or over-due coursework. Lab staff with access to EHS Assist can also run a report at any time throughout the year. The Training Deficiency Report will only be as accurate as the Training Needs Assessment. If the personnel in your lab or the type of work conducted by those individuals has changed since your last annual lab review, contact your auditor to update the information.
To access the Training Deficiency Report:
1. Log-in to EHS Assist.
2. On the Main Page, click on Reports.
4. Click on "Training Deficiency Report- PI- Sort by worker".

5. In the blocking window that appears, select the start and end dates, or select a date range from the Autofill drop-down.
a. Today's date will show you any overdue coursework through today. A date two months in the future will show you what will be due two months out.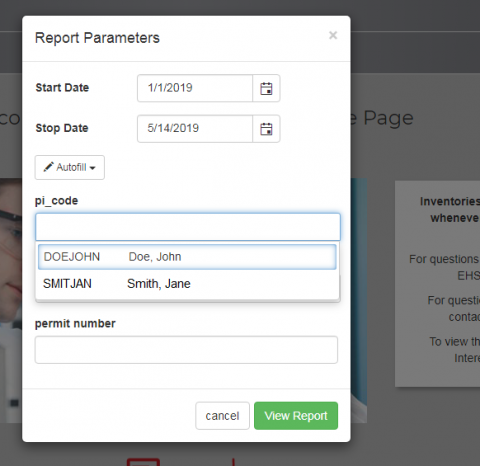 6. If you work for a single PI, the PI will already be selected. If you are authorized to see multiple PI inventories, in the pi-code field, select the PI of interest from the drop-down list. Only those PIs to whom you are authorized will appear.
7. Click "View Report". The report will open in a new tab.
Training Courses
Common training courses are listed in the Required Safety Training document below. The intended audience, frequency, and whether the course is required or recommended is identified for each course. The list of courses is not exhaustive. For additional recommended training courses provided by EHS, refer to the Safety Training Course Guide or contact your safety advisor.