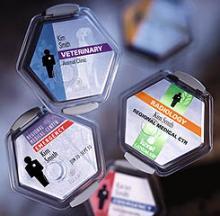 Personal monitoring devices used to record occupational radiation exposures are supplied and processed through a commercial dosimeter service. The administration and management of the personnel-monitoring program is provided by EHS. Copies of dosimetry reports are provided to each dosimeter account and are maintained on file at EHS.
Personnel dosimeters are assigned to individuals based upon their potential occupational exposure to penetrating radiation and regulatory requirements. Dosimeters are not effective for measurement of exposure from H-3, C-14, P-33 and S-35. Dosimeters are normally exchanged on a monthly basis. Temporary dosimeters are available for interim issue until permanent dosimeter assignment is established.
Dosimeters are required to monitor occupational exposure for the following:
Adults likely to receive an annual dose from external sources >10% of the occupational exposure limits (500 mrem whole-body deep dose; 5,000 mrem extremity or shallow dose; 1,500 mrem lens of the eye).
Individuals working with medical fluoroscopic equipment.
Individuals entering a high radiation area.
Declared pregnant women likely to receive a whole-body deep dose > 100 mrem from external sources during their pregnancy.
Contact information and areas of expertise can be found on the Contact Us page.
 
Documents
Training
Documented completion of EHS radiation safety training applicable to job function is required as a prerequisite to obtaining a personal dosimeter.
For further training and registration information, go to EHS Safety Training.
Resources
External Links