Contacts
Nyree Mortensen, PhD, RBP, Biological Safety Officer, Ph. 353-5679
The following document outlines the packaging and transporting requirements for infectious substances.  
Biohazardous Material Transport through Public Areas within a Building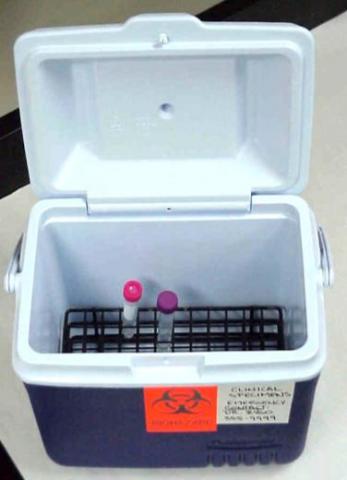 Safe biohazardous material transport is required to prevent spills and accidental exposure.  Safe transport includes the following:
Placing the biohazardous material in a primary specimen container secured with a tight-fitting cap, Parafilm, or tape.
Placing the primary container (blood tubes, agar plates, flasks, test tubes, for example) in a secondary container with absorbent towels to cushion the primary container and absorb liquids in the event of a leak or spill.  Acceptable secondary containers include plastic or metal devices with a lid or a plastic cap.  If a small number of plates or tubes are involved, a ziplock bag containing absorbent material may be used.
The secondary container must be labeled with a biohazard symbol and each primary container should be labeled with its contents. The secondary container should be a dedicated transport vessel.
Biohazardous Material Transport between Buildings on UI Campus
Biohazardous material being hand-carried and transported on foot by UI personnel from one building to another on campus must be packaged as indicated above.  If the primary container is not labeled, documentation of the contents should be taped to the outside of the secondary container or placed inside.
Biohazardous Material Transport Off-Campus
When packages containing dry ice or infectious substances are shipped off campus, they are classified as "Dangerous Goods" and must be shipped according to federal agency regulations.  The International Air Transportation Association (IATA) regulates all air transport.  FedEx and other carriers require that all shipments comply with these regulations.  Critical to this compliance is the requirement that shippers are properly trained prior to shipping these materials off campus.  EHS's Shipping Infectious Substances with or without Dry Ice course, available on-line, fulfills this training requirement.  Refresher (re-certification) training is required at a minimum of every two years.  
 
Failure to comply with federal regulations could not only result in significant monetary fines, but also in exposing transport personnel and the public to biohazardous agents.  EHS's Shipping Infectious Substances course will provide instruction on the proper preparation, packaging, labeling, and documentation requirements.
Biohazardous Waste Transport
When transporting biohazardous waste to an accumulation site, it must be transported in a compliant secondary container, such as a red biohazardous waste tub. Never hand carry a red biohazard bag.
The transport container must be a rigid container that is composed of nonporous materials that can be readily decontaminated. It must also be labeled with a biohazard symbol and large enough to contain the contents of the biohazard waste bag in the event of a bag leak or tear.