The goal of EHS's safety program is to promote and foster a safe working environment by incorporating health and safety into the daily operations of the University, resulting in the prevention of injuries and illnesses of faculty, staff and students, promotion of best practices, and compliance with federal, state, and local regulations and laws governing the activities of the institution.  Additionally, EHS works in partnership with the Campus Safety Committee, multiple faculty lead safety committees including, Laboratory Safety Committee, Institutional Biosafety Committee, and Basic and Medical Radiation Protection Committees, and Occupational Safety Managers across the University to bolster safety efforts.  The information below demonstrates that these efforts are working.  [The information presented does not include UIHC.]
In calendar year 2022 the OSHA Total Recordable Incident Rate (TRIR)* dropped below 1 for the first time in UI history since these records were kept.

The UI TRIR rate of .94 is 32% lower than the NAICS Code (6113) rate for universities of 1.4, meaning we are 32% lower than the average university.

Since we started our incident investigation program in 2016 UI injury rates are down significantly in every category which includes: first reports of injury (-29%), OSHA recordable injuries (-51%), restricted duty injuries (-42%), and lost-time injuries (-49%).

This reduction is due to the efforts of everyone across campus to improve safe working conditions in their areas.  Some key drivers of this are:

Ensuring that every first report of injury is investigated as well as identifying and implementing good corrective actions that will help prevent something similar from happening in the future.

A robust safety review process in labs, shops and facilities across campus that ensures any identified deficiencies are corrected.

Providing the campus community with over 100 online, and in some cases in-person, safety training courses in the areas of biological, chemical, occupational and radiation safety and waste management.

An ergonomics program that works with units and individuals through prevention and education programs, ergonomic risk assessments and consultations, and implementation of control measures to limit ergonomic risks in the environment.

Risk Management focus on the identification and analysis of risk, implementation of loss control programs and contractual transfer or other risk reduction or financing techniques.
*TRIR, also known as Total Case Incident Rate, is a key metric for evaluating an organization's safety performance from year to year. It is a lagging indicator created by OSHA and also used for comparing safety performances of organizations within a particular industry. With TRIR, the lower the number, the better your safety performance.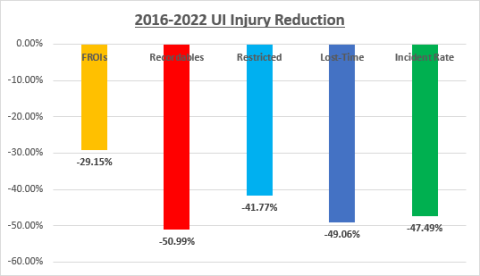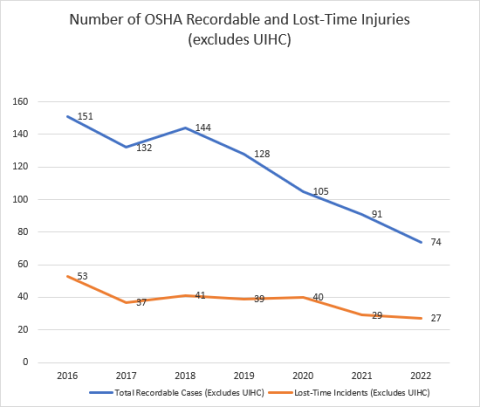 EHS staff would like to thank the campus community for their efforts in fostering a safe work environment for everyone.