Article published in the March 2019 newsletter
The University of Iowa has used EHS Assist (EHSA) for the past eight years to maintain the chemical inventories across campus. Our current system will be upgraded the week of April 6-12th, 2019.
Basic things to know about the upgrade:
All chemical inventory accounts will be migrated to the new system by the vendor.

All current authorized users will have access to the new system. Log-in credentials will still be your University of Iowa HawkID and password.

A new user guide will be available online at the EHS website at the end of March.

The system will be inaccessible for the week (April 6-12th) of the migration.
NOTE: All users should log in to the new system on April 15th to check their log-in and inventory. Any problems in the system should be immediately reported the EHS for resolution.
To prepare users for this upgrade we will be providing multiple training sessions across campus. Anyone who would like to attend a training session should sigh-up for a slot, as described below. The course title is "EHS Assist Training" (course # 964). The available times include:
| | | |
| --- | --- | --- |
| Date | Time | Location |
|   3/18/19   | 1:30-2:30 p.m.  | UCC |
| 3/19/19  | 1:30-2:30 p.m.   | MERF |
| 3/20/19 | 9:30-10:30 a.m.   | PFP |
| 3/26/19  | 11:00-12:00 p.m. | IMU |
| 3/27/19 | 10:00-11:00 a.m.   | MERF |
| 3/28/19  | 9:30-10:30 a.m. | HLI |
 To sign up for training:
Log-in to HR Self-Service

Click on "My Training"

Click "Enroll in Courses"

In the Course Title field, search for "EHS Assist Training" or  Course Number, "EHS100"

Click "View Details" to see the course openings and enroll in a course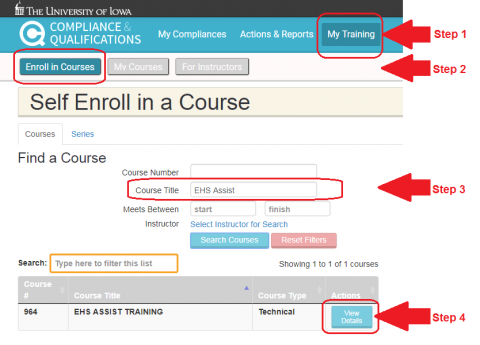 This upgrade will also allow EHS to roll-out additional modules in the software to campus.  During a second phase of the upgrade we will begin to communicate audit findings and corrective actions through the lab audit module.  Additional training and user guides will be made available at that time.