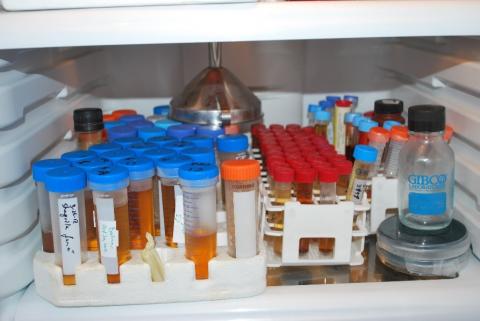 If you haven't done a thorough cleaning of your lab freezers or refrigerators recently, there's a good chance they are crowded with duplicate samples, items left behind by previous personnel, and other forgotten materials. Now's a great time to review the reagents and samples being stored.
Dispose of items that are:
unneeded or unwanted
abandoned or orphaned
unlabeled, unknown, or unidentifiable
expired
Organize and inventory what's left:
Clearly label items that you want to keep.
Keep an inventory, and update it on a regular schedule. A simple spreadsheet is great for this.
Create a routine for cleaning your freezers, refrigerators, and cryogenic storage.
A well-organized freezer makes it easier to find what you need. And who wants to deal with the risk of mystery items lingering in the lab?
Refer to the EHS Web page for information on waste disposal.
If you aren't sure how to dispose of an item, contact Jim Pyrz at james-pyrz@uiowa.edu or call 5-4625.