Organization
Our information is primarily organized by the safety section that oversees the program/regulation.  The web platform has the top-bar navigation menu shown on every page.  The navigation menu lists each safety section as a top-level "landing page" with dropdown menus linking to the associated programs.  The Lab Safety (previously Lab Audit) section is a laboratory specific section that includes information on the annual lab review, safety rounds, and descriptions of the committees that are involved in setting policies and regulations that affect UI research laboratories. 
Accessing EHS Written Programs/Documents
We have continued to use SharePoint to maintain EHS written programs and documents.  When you click on a link to a document hosted on a University of Iowa SharePoint site, if you are not already logged into your Office 365 account, the Microsoft Sign In window will appear. See screenshot below.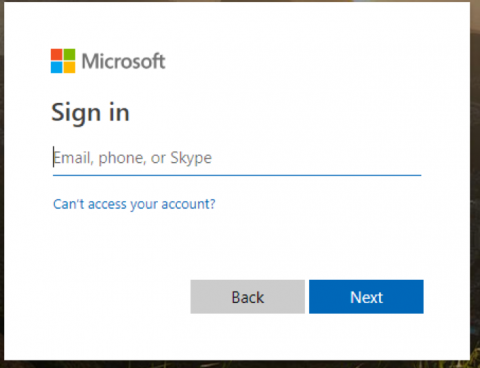 To sign in to your Office 365 account, follow these steps: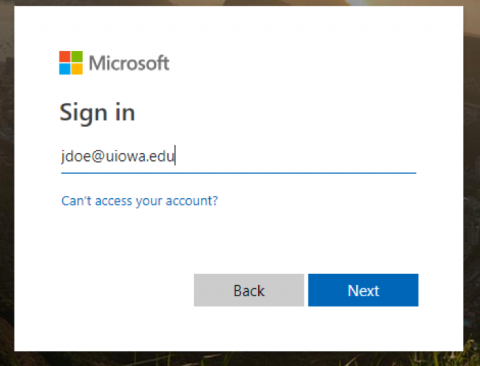 Click "Next".
You will then be redirected to the University of Iowa Login Page with your HawkID filled in.
Enter your HawkID password and click "Log In".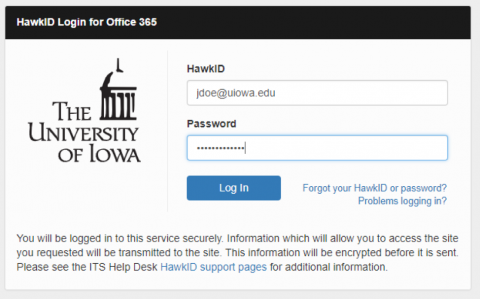 Once logged in, you will be redirected to your document.  You will be able to save your log in information and password for this site so you are not required to log in each time. However, if your computer is set up to clear cookies each time you close your browser, your log in will be cleared and you will need to enter your credentials each time to access a page.
If you do not know your HawkID and/or password, please visit the HawkID Tools Page or contact Information Technology Services (319-384-4357 or its-helpdesk@uiowa.edu).
Expandable Pages
The new website has allowed us to add accordion sections within various pages.  These sections are shown in a grey bar with an arrow on the left hand side.  The section can be expanded to show more information by clicking within the grey bar; you can collapse the section by clicking within the bar a second time.  This new formatting should help users quickly navigate to the section of interest without having to scroll through long paragraphs of information.
Mobile Friendly Design
You can now easily navigate through our website on your mobile device.  If you are visiting our page using a mobile device, the menu can be viewed by clicking the three horizontal bars (a.k.a. hamburger menu) located in the top right corner.
Assistance
Please be patient as the transition progresses and contact us if you need assistance locating any information or happen upon a broken link (ehs-contact@uiowa.edu).