What's New
Read the latest November Lab News to get informed on new topics in the University community.


December

Radioactive

Hazardous

Mon. 12/23
No
IREH, MTF, PHAR, PRL, JPP, RCP, JCP, GH (Hospital nursing units/patient areas), BB, BSB, MERF, CBRB & all other areas.
Tues. 12/24
NO PICKUPS (University Holiday)
Wed. 12/25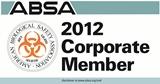 "The name and ABSA Corporate Member logo of ABSA are the sole property of the American Biological Safety Association, Inc., and ABSA does not endorse any activities, materials, or products marketed by this company or organization."