Fire and electrical safety are important considerations in reducing property risks and hazards to occupants.
The purpose of the information below is to assist building occupants in working together to maintain an environment that reduces the risk of fire hazards.  It offers guidance on some of the most common issues, which if not properly addressed, can become fire code violations that contribute to fires and endanger occupants and emergency response efforts.
Table of Contents:
Building Evacuation
Exit Passageways
Exit Doors
Sprinkler Heads
Housekeeping
Extinguishers and Pull Stations
Open Flames
Exposed Wiring
Electrical Cords
Extension Cords
Electrical Panels
Storage
BUILDING EVACUATION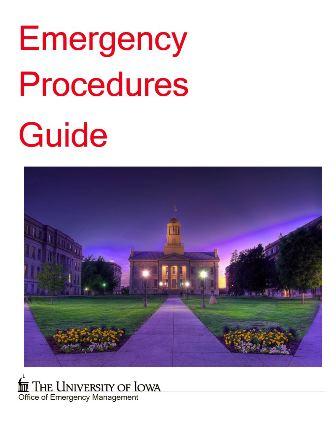 Departmental staff should have a plan for what they will do in the event of a fire, tornado or other emergency and periodically review it. Alternate exit routes should be identified for use if the primary exit is blocked. In buildings with fire alarm systems, staff should become familiar with the location of fire alarm pull stations. When a building fire alarm system is activated, staff must evacuate immediately and not remain in the building; evacuation time is of utmost importance. Close doors to your immediate area to help keep the fire and smoke contained. The University of Iowa Emergency Procedures Guide is a generic strategy guide meant to provoke thought and discussion about your response to emergencies.  The guide is available at, https://police.uiowa.edu/about/office-emergency-management [1] .
EXIT PASSAGEWAYS
Aisles within rooms, main corridors, and stairwells must be kept free and clear of any materials that will block, hinder or slow egress during an emergency. Fire and rescue personnel enter these areas and any blockage can hinder them.
Do not store materials or equipment in corridors or stairwells. Such storage narrows the exit path and is fuel for the fire. This includes obstructions such as tables, display cases, holiday decorations, powered equipment, display boards, signs, coat racks and other movable equipment that may interfere with fire-fighting access
Design codes include sizing exits and corridors so that the allowable number of occupants can exit quickly in an emergency.

This blocked exit and storage create a life safety hazard. Over half the space is blocked.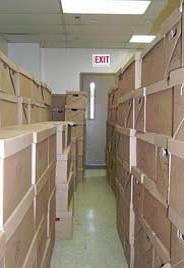 This blocked exit creates a life safety hazard. Imagine how many people could get out quickly compared to a corridor four times as wide. Would a firefighter be able to roll a gurney through here?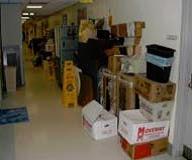 This material storage in a hallway narrows the exit path. It creates a life safety risk. What if this material catches fire? Now the path to safely exit the building is on fire.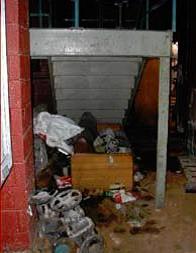 This storage in a stairwell contributes to combustible material load. In a fire, people are supposed to use the stairs and not elevator. If the stairwell is filled with fire or toxic smoke, it is now a life safety risk.
EXIT DOORS
The use of doorstops, wedges and certain type of hold-open devices are not permitted by the fire code. Where such devices are used to accomplish tasks such as environmental services related activities, moving furniture or materials through the doors etc., they must be promptly removed once the task is completed.
Keep stairwell and room doors to corridors closed at all times. The only exception is doors that are held open via automatic hold open devices connected to the building fire alarm system, which automatically release upon activation of the alarm.
Doors help stop the spread of smoke or fire from one area to another. Never place wedges or door stoppers under doors. The most critical element in a building fire is to prevent fire and smoke from spreading rapidly throughout the building, allowing more time for evacuation.
Stairway doors should always remain closed. If fire or smoke gets into a stairway, then that stairway has now been turned into a chimney. People trying to get out of the building can't use it, and they may become trapped above the fire – not a good place to be.
Even when there is no fire, the ventilation design in a building is affected by doors propped open that are not intended to remain open. Pressurization of spaces is affected when doors are wedged opened that were not intended to remain open.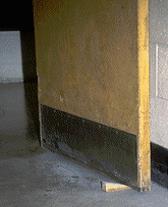 Door Wedge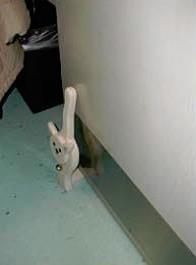 Using door chock to hold open a fire door.
SPRINKLER HEADS
In buildings with sprinkler systems, do not place or store material within 18 inches of sprinkler heads. When sprinklers are activated, a full spray pattern is needed to effectively control the fire.
HOUSEKEEPING
Good housekeeping is essential in an office environment. Keep office materials and items organized and neatly stored. Minimize the amount of combustible materials such as books, papers, boxes, etc., to prevent adding to the fuel load.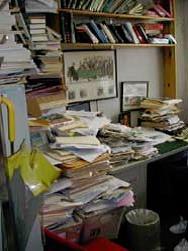 Poor housekeeping with too much combustible material.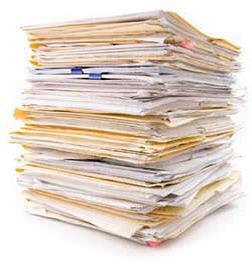 Fuel Load
EXTINGUISHERS AND PULL STATIONS
Never block or store items in front of fire extinguishers, fire alarm pull stations, and fire alarm audiovisual devices. Immediate access is critical in the event of a fire.
Fire extinguishers must be properly selected, mounted and routinely inspected. The Department of Facilities Management Electronic Shop purchases, inspects and maintains fire extinguishers. For evaluation as to need, proper type and location of fire extinguishers contact the Work Control Center.
The UI Emergency Guide includes a guide to proper selection and use of portable fire extinguishers in University Buildings.
An Employee's Guide to Proper Selection and Use of Portable Fire Extinguishers in University Buildings.
NOTE: The intent of this guide is that University employees are NOT REQUIRED to fight fires they discover with portable fire extinguishers; but to provide employees with the information needed to use portable fire extinguishers if a small fire situation arises.
TYPES OF FIRE:
Class "A" - Involves ordinary combustible materials like; wood, paper & cloth
Class "B" - Involved flammable & combustible liquids and gases
Class "C" - Involves fire in electrical equipment
Class "D" - Involves flammable & combustible metals
Class "K" - Involves a fire in a commercial cooking appliance.
| | | | | | |
| --- | --- | --- | --- | --- | --- |
| Types of Portable Fire Extinguishers | Class A | Class B | Class C | Class D | Class K |
| ABC Dry Chemical | X | X | X |   |   |
| BC Dry Chemical |   | X | X |   |   |
| CO2 (Carbon Dioxide) |   | X | X |   |   |
| Pressurized Water Mist | X |   |   |   |   |
| Pressurized Water Mist | X |   | X |   |   |
| Wet Chemical |   |   |   |   | X |
| Dry Power |   |   |   | X |   |
| CleanGuard (Halon  Replacement) |   |   |   |   |   |
Operation of a Portable Fire Extinguisher
NOTE: Any time an employee utilizes a fire extinguisher; ; they must always have an exit/escape from the situation at their back. If a fire extinguisher is utilized in or around a University building, the operator must report the incident as a fire to 911 as soon as possible.
PASS
Pull and TWIST the pin from the extinguisher handle
Aim the hose or nozzle towards the fire
Squeeze the handles of the extinguisher together
Sweep the extinguishing agent at the base of the fire
An ICON course covers basic information on extinguishers. This information is also included in the hands-on training. To enroll in the ICON course go to HR Self Service-My Training and look for "Fire Extinguishers."
Hands-on extinguisher training is available for any faculty, staff, or student group. Hands-on training can be arranged by telephoning 319.335.5389.
OPEN FLAMES
Open flames such as candles are not allowed. They can easily tip over or start combustible items on fire. If you use a Bunsen burner, ensure the gas valve is shut off when you are done using it.
EXPOSED WIRING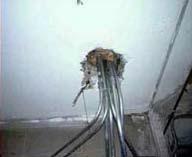 All electrical wall outlets and overhead light fixtures must be covered and have no exposed wiring. Exposed wiring should be reported to building maintenance immediately.
Also, holes in walls or ceilings need to be filled to prevent the spread of fire through these openings. If you observe an open penetration, inform the Work Control Center.
An open penetration that would allow fire and smoke to spread between levels.
EXTENSION CORDS
The State Fire Code prohibits the use of extension cords as "permanent wiring". Portable power strips that are UL listed (fused & grounded), may be used in applications approved by the devices manufacturer. Surge protecting power strips are to be used only on sensitive electronic equipment such as personal computers and their accessories.  Surge protectors and power strips must be plugged directly into a wall outlet. Multiple plug adapters plugged into wall outlets are not allowed.
Using extension cords in place of permanent wiring is dangerous.
ELECTRICAL PANELS
Office staff should not open electrical panel box doors and flip breaker switches, as there is a potential for arc flash and electrical overload. If power goes off, contact your building maintenance or the Work Control Center. Never block electrical panels with equipment or materials.  Maintain at least 36" of clear space to all sides of the electrical panel.  Immediate access to these panels may be needed by maintenance or emergency responders.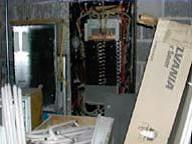 Open electrical panel without a cover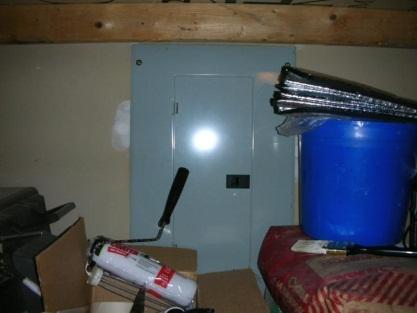 Improper storage of work supplies blocking access
STORAGE
Ceiling Clearance
In sprinklered areas of a building, storage shall be a minimum of 18" below the sprinkler head deflectors. This allows the water to spray out in a circular pattern if the sprinklers activate.
In nonsprinklered areas, storage shall be maintained 2 feet or more below the ceiling.
Cylinders - Unsafe Storage of Compressed Gas Cylinders
Any cylinder, because the contents are under pressure, can become a deadly missile when it falls over or if heat causes uncontrolled expansion of the contents.  Relief valves help release the pressure building up, but also consider if the contents are toxic, now toxic gas is being released. For many reasons, it is important to ensure cylinders are stored correctly; in an upright position and properly secured with an approved device (chain or commercially available product) that is fastened to a wall or building structure whether in use or not.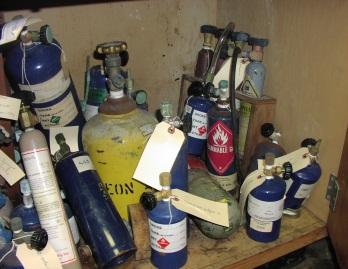 Bad lecture bottle storage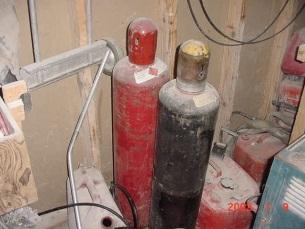 Cylinders not secured
Gas cylinder after rupturing.
Chemicals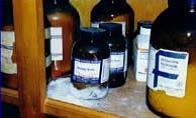 Storage codes and guidelines are designed to prevent fires and dangerous reactions of incompatible chemicals. Even small amounts of chemical can start a fire.
Do not store any (empty or full) chemical bottles or containers on the floor without proper containment. Also, do not use containers to prop doors open.

Unsafe storage of chemicals
Flammable Cabinets
The purpose of a flammable cabinet is to buy some time before the flammable contents become fuel load to feed a fire.  In order for the cabinet to do its job, the cabinet door must be closed.  If the cabinet has a door you must close manually, be sure it is shut unless you are adding or removing contents. If the cabinet has a self-closing door, like the cabinet on the left in this picture, be sure the door can glide shut and that the door is not blocked.
Refrigerators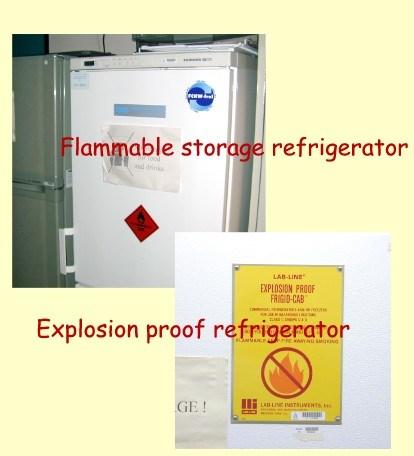 Requirements for flammable and combustible liquid storage are outlined in OSHA and NFPA standards. In short, flammable liquids are never to be stored in an unmodified domestic refrigerator. There are too many ignition sources within a household type refrigerator such as the light switch and the thermostat switch.
If flammable/combustible materials need to be kept cold, these materials need to be kept in an explosion-safe or an explosion-proof refrigerator.
An explosion-safe refrigerator is designed to eliminate ignition of vapors inside the unit. These units are also referred to as laboratory-safe.
An explosion-proof refrigerator is designed to protect against ignition of flammable vapors both inside and outside of the refrigerator.
Cold Rooms: Flammables should never be stored in a cold room. Cold rooms recirculate air so flammable vapors could build up.