EHS Holiday Pickup Schedule for Waste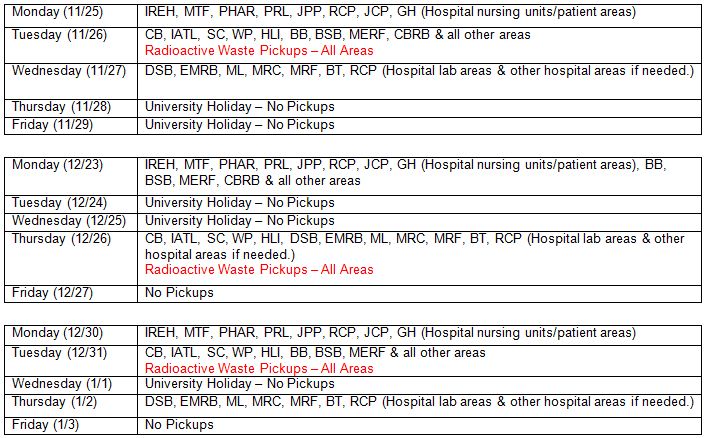 ---
Training Requirement for All Chemical Users
Reminder: All employees who handle chemicals must receive training on new labeling and safety information by December 1, 2013.   This is a one-time training requirement for all chemical users.
OSHA revised its chemical standards by adopting the United Nations Globally Harmonized System (called GHS) for the Classification and Communication of Chemical Hazards and employees need to be aware of the changes as they begin seeing the new labels on chemical containers entering laboratories and workplaces. By December 2015, chemical producers are required to have converted to using the new information system on labels and in safety data sheets; however, some manufacturers have already begun to implement these changes.
The training requirement can be fulfilled by taking a new ICON course entitled "GHS Labels and SDSs" (W503OS). (Safety data sheet, or SDS, is the new term for material safety data sheets or SDSs.)  The course can be accessed through the HR Self-Service site. Select "My Training" under Learning and Development, click on "Available Online Icon Courses," and then select the course noted above.  Information regarding GHS labels and SDSs has also been incorporated into the Lab Chemical Safety course (W008CM).   If you completed W008CM after January 1, 2013, you do not need to complete the "GHS Labels and SDSs" course also.
The "GHS Labels and SDSs" course is a short course that explains the 16-section format for safety data sheets and the pictograms, signal words, and statements about hazards and precautions that will now be on chemical container labels. Though this type of information has been on labels and SDSs for quite some time, inconsistencies in how the information was presented made it challenging for chemical users to understand. The GHS system should enhance comprehension of the hazards and provide quicker and more efficient access to information.
The revised standard does not change other requirements in the Chemical Hygiene Plan or Hazard Communication Program, the EHS Assist inventory, etc. The only new requirement is that all employees who handle chemicals must be trained one time on the new labeling format and safety data sheets.
This information has also been distributed by EHS staff during department reviews and audits throughout the past year.  If you have questions, please direct them to LuAnn Hiratzka at 335-7964 or Periyasamy Subramanian at 335-8299.
---
New Changes Coming for EHS Lab Reviews
EHS will soon begin to use a mobile inspection software program to capture the results of annual laboratory reviews/audits.  The program has several capabilities that will be rolled out in phases.
The first phase of this mobile laboratory inspection process will be relatively seamless for the labs and include the following:
The primary lab contact and/or PI should review the lab audit topics checklist and be prepared to answer these questions but will not be requested to complete a paper document as is the current process.

You will still be required to provide training documentation for lab employees and other safety documentation.
If your lab uses radioactive materials, a few questions pertaining to the radiation safety program will be added along with the biological and chemical safety program review questions.

EHS Safety Advisors will use a tablet computer to document the results of the lab review in place of the paper document.
EHS will still send your lab the results of the lab review but will now send a computer-generated report listing only the discrepancies that need to be corrected.  This will replace the hard copy audit checklist that you have been receiving.
The advantages of this new inspection software include the following:
Associating lab employees to each PI's profile and the future ability to pull employee training data from HR Self-Service.  This can eliminate or greatly minimize the need for labs to provide this documentation.
In the near future, a web application will allow PIs direct access to their lab's EHS review records. In particular, the PI and/or lab contact will be able to see discrepancies that are identified during lab reviews and enter corrective actions for these items.
The first phase of this mobile inspection program will be rolled out in November.  Labs will be notified as additional phases of the process are implemented.
If you have questions about the lab review changes, you can contact LuAnn Hiratzka at 335-7964.
---
EHS Welcomes Three New Staff Members
| | |
| --- | --- |
| | The Environmental Programs section of EHS welcomes James Bechtel to its staff.  James graduated from the University of Iowa in December of 2006 with a B.A. in Biochemistry, also obtaining an M.S. in Urban & Regional Planning, and is currently pursuing an M.S. in Occupational and Environmental Health at the UI College of Public Health.  James is an Environmental Safety Coordinator, and his primary responsibilities will be with chemical, biohazardous and radioactive waste collection and management.  James can be reached at 335-4391. |
| | Tyler Shaffer has recently joined EHS as a Biosafety Specialist.  Tyler received a B.S. from University of Dubuque in 2011. Tyler will provide support for the Biological Safety Program in the area of recombinant DNA, by administering the biological safety cabinet program and serving as a safety team advisor. Tyler can be reached at 335-7702. |
| | Julia Lippert has joined EHS as an Occupational Safety Assistant. Julia received a Ph.D. from the University of Illinois, Chicago in Public Health focusing on Environmental and Occupational Health Sciences. Julia will provide support for the Occupational Safety Section and can be reached at 335-9547. |
---
Radioactive Materials License Inspection
The Radiological Health Section of the Iowa Department of Public Health (IDPH) completed their annual inspection of the University's radioactive materials license October 22 -25, 2013. Their inspection consisted of a review of activities at UI and UIHC involving the use of radioactive materials.  As typical, their inspection focused on the safe use, storage and security of radioactive material.  During the week, IDPH reviewed records, policies, staff dose reports, as well as specific activities in Nuclear Medicine, Radiation Oncology and a number of research labs and facilities.  Overall, the inspectors were very pleased with the program, and no violations were cited in their final report.   They mentioned how impressed they were with the radiation safety practices used by the end users (YOU).  They did, however, emphasize the importance of wearing protective apparel (i.e., gloves, lab coat, closed toe shoes, etc…) whenever handling ANY radioactive material, either sealed or unsealed.  Their point was that even sealed sources may potentially leak, and that the use of gloves, etc., could help prevent an incident involving personnel contamination.
Thanks for your efforts in adhering to UI's radiation safety policies and creating a safe radioactive materials work environment.  And for making us all look good to our regulators!
---
Sustainability Comes to the Organic Lab: Organic Chemistry Laboratory Curriculum Revisions
The Department of Chemistry recently revised the 004:141 Organic Laboratory course. The changes are designed to enliven instruction on techniques, provide a connection with biological chemistry, and to emphasize sustainability and green chemistry in more experiments while still teaching the fundamentals of practical organic chemistry. Led by Professor Greg Friestad, five new experiments were introduced, and the following practices were changed to emphasize sustainability:
Replaced HBr with less hazardous H3PO4 in E1 dehydration reactions.
Added an experiment using a renewable resource (isolation of furfural from corncobs).
Use a solventless aldol reaction.
Removed a Grignard experiment which used two unnecessary steps (allowed elimination of the use of air—sensitive reagents).
Replaced a chlorinated solvent extraction with one that uses liquid carbon dioxide.
Chemical waste generation appears to have been impacted significantly by the changes. While the average rate of waste generated from this course the past three semesters has averaged nearly 450 kg, waste generation for the current semester is on pace for well under 300 kg. In addition, the changes incorporate less hazardous aqueous materials and ethanol, while eliminating a number of volatile organic compounds and chlorinated solvents.
Professor Friestad and other staff report that the curriculum has been a big success across the board, from the perspective of students, TAs, and stockroom staff. The new experiments are excellent in terms of technical material and sustainability. EHS extends hearty congratulations to the Department of Chemistry for undertaking this successful endeavor that has improved organic lab safety and decreased the amount of waste chemicals generated.
Publish Date:
Thursday, November 7, 2013