Fume Hood Alarms
When not in use, the sash of your fume hood should be fully closed. If your fume hood alarms continuously when the sash is closed, contact Facilities Management Work Control (335-5071 or facilities-wcc@uiowa.edu) and report the problem. Do not leave the hood sash open. In particular, a fume hood sash should never be fully opened except when setting up experimental apparatus. Once the monitor and/or fume hood has been fixed, FM should contact EHS, after which EHS will retest the fume hood.
---
New Chemical and Lab Hazard Guidance Documents on EHS Web Site
EHS has recently published the following three new chemical and lab hazard guidance documents:
This generic chemical safety guidance describes basic prudent safety practice for handling pyrophoric reagents in research labs. Pyrophoric reagents react with air or moisture in air; this reaction can readily lead to a fire.  The guidance includes examples of pyrophoric reagents, hazards associated with their use, safety and personal protective equipment, safe handling practices, emergency and spill procedures and waste management.
The purpose of this research safety guidance is to prevent and/or minimize broken glass injuries while handling laboratory glassware through awareness of personal protective measures. Protective measures include the use of slip-resistant and cut-resistant gloves while handling glassware and safe disposal of both broken and unbroken glassware, pipettes and vials, etc., in sharps containers to prevent injury to those handling waste containers. The guidance document includes examples of types of glassware injury, control methods to reduce risk, injury prevention, training, personal protective equipment, and managing injuries and emergencies.
The appendix contains some helpful guidance for reducing injury for specific glassware use applications including Schlenk line apparatus, vacuum apparatus and thermometers.
This research safety guidance describes the physical hazards associated with the use of oil baths in research laboratories and measures to take to minimize burns from hot oil and water/hot oil combinations.  A comparison of several heating bath materials is included. Other guidance includes prudent safety practices when using an oil bath, safe storage of the oil bath equipment, emergency and spill management, personal protective equipment, and used oil disposal.
If you have questions about the topics of these guidance documents, contact P. (Subu) Subramanian at periyasamy-subramanian@uiowa.edu .
---
Stem Cell Research at the UI
In response to President Obama's March 2009 Executive Order: Removing Barriers to Responsible Scientific Research Involving Human Stem Cells, The University of Iowa established the Human Pluripotent Stem Cell Committee (hPSCC). The hPSCC is responsible for ensuring that all stem cell research conducted at or sponsored by the University complies with the National Institutes of Health Guidelines for Human Stem Cell Research (Guidelines).  The committee reviews stem cell research and approves those projects in conformity with the Guidelines and in accordance with the general principles expressed in the Guidelines for Human Embryonic Stem Cell Research (National Academies' of Science, 2005) and its subsequent amendments. 
Research staff members who are interested in utilizing human embryonic stem cells are encouraged to contact Dr. Nicholas Zavazava, chair of the hPSCC.  Administrative support for the hPSCC is provided by Haley Sinn, Biological Safety Officer in EHS; please visit EHS's website at https://research.uiowa.edu/ehs/files/documents/biosafety/hPSCCpgm.pdf, for more information regarding the policy and procedures of the hPSCC.
---
Ergonomics Program Information
As a reminder, the Ergonomics Program is now housed within the University's Human Resources department. For an ergonomic evaluation or to speak with someone about your workstation or other ergonomic conditions, please call 384-0959 or email ergonomics@uiowa.edu .
---
Research Laser Safety Overview
The use of lasers in research is growing steadily, and the number of applications for higher powered Class 3B and Class 4 lasers continues to increase.  EHS provides oversight for research use of Class 3B/4 lasers, and performs periodic audits to help eliminate the risk of injury resulting from the use of these potentially dangerous devices.
The primary risk of injury resulting from laser use is eye damage.  These injuries can range anywhere from painful burns to complete vision loss.  Different laser wavelengths and energies can affect different parts of the eye in different ways, so the types and severity of injuries cover  a broad range.  However, injuries from laser use can also result from other aspects of their use, including electrical hazards, hazardous chemical exposure, exposure to laser-generated airborne contaminants (LGACs), and skin injury.  EHS staff evaluates quite a few of these factors during their laser safety audits, including the following:
Inspection of laser safety glasses/goggles to ensure that they are appropriate for the laser(s) being used, and are free from damage that could affect their protective function.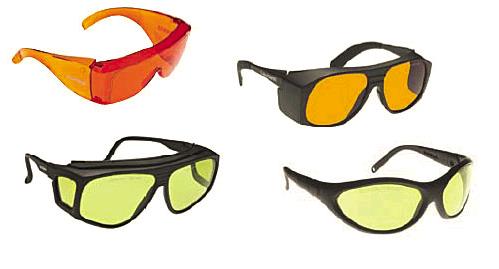 Inspection of lasers to make sure they are labeled properly and have the requisite safety features required by regulation.
Inspection of the workspace to make sure lasers are properly secured, there is not undue fire risk, and that the risk of a direct or indirect laser beam exposure has been minimized, among other things.
Ensure that access to the laser and laser work area is controlled appropriately.
A review of laser safety training records to ensure all staff using lasers has completed laser safety training bi-annually.
When applicable, evaluate exposure control measures for LGACs and hazardous chemicals such as laser dyes or fluorine.
Please contact EHS at 335-8501 if you have any laser safety related questions or concerns, or are receiving any new laser equipment.
---

NOTE: ICON training courses WILL NOT BE AVAILABLE during May 27th – 28th,
as ICON is undergoing a comprehensive upgrade.