EHS Waste Pickup Schedule (Independence Day)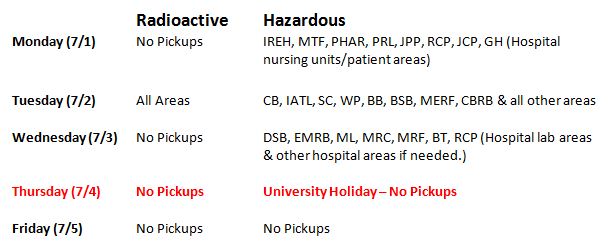 ---
Spill Kits (Spill Response Supplies):  What Supplies Should We Keep In Our Spill Kit?
Prepare spill kits (supplies) to have on hand in areas where hazardous materials are used.  A spill kit consolidates spill control materials and personal protective equipment in one location. Tailor spill kits to meet the needs of each work area and select PPE based on the hazardous materials used.  Store kits in a location where individuals can quickly gain access to items needed in the event of a spill.  Hazardous materials users should know where to locate the spill kit and how to use the spill response materials contained in the kit.
Basic Spill Kit Supplies:
Container
Obtain a chemical-resistant container to hold the kit contents, such as a 5-gallon plastic bucket or Rubbermaid™ tub.  It is recommended that an additional 5-gallon container with a sealable lid be kept on hand.
Personal Protective Equipment (minimum)
2 pairs chemical splash goggles.
2 pairs chemical-resistant gloves.  Silver Shield®/4H® and thick nitrile or neoprene gloves are recommended.
2 pairs plastic, vinyl or rubber shoe covers.
2 disposable lab coats, aprons, or coveralls.
Absorption Materials
Include universal absorbents such as commercial spill pads, pillows, spill socks, and loose absorbents.  The commercial spill pads available through Biochemistry Stores and other vendors are some of the simplest to use, but having some loose absorbents can help when a material splatters away from the original spill location.
Cleanup Tools and Materials
Plastic scoop, dust pan, or shovel. Use plastic (polypropylene) when non-sparking tools are needed (such as for flammable materials).
Plastic broom or brush for solids (polypropylene).
3-5 thick, heavy duty waste bags.  DO NOT use red biohazard waste bags for non-biohazard spill debris.
Cardboard box to hold waste bag(s) containing spill debris.
Sealing tape.
EHS hazardous waste labels.
Forceps or tongs for picking up broken glass or other sharps.
Detergent or general cleaner for final cleanup.
Additional Spill Response Items as Necessary for Your Work Area
Additional PPE such as face shields, chemical-resistant clothing or boots.
Neutralizing agents.

General neutralizing agents for acids and bases (see "Absorbents and Neutralizers" chart).
Chemical-specific neutralizers such as those for formaldehyde or solvents (see "Absorbents and Neutralizers" chart).
Mercury spill response items (see the "Mercury Metal" guide).
Specialized supplies for air or water-reactive chemicals and hydrofluoric acid.
Bleach or agent-specific disinfectant materials, if biological agents are used.
Specialized supplies if radioactive materials are used.
If you have questions about what spill supplies to maintain for a particular material, you may contact Rick Byrum at 335-9379 or LuAnn Hiratzka at 335-7964.
This article is from the Spill Response Guide: Spill Kits, Absorbents and Neutralizers. 
---
Shipping Biological Material?
When completing either the Shipping Infectious Substances or Shipping with Dry Ice ICON courses, be sure to print off the Record of Employee Training and Certification Form that is available within the table of course contents.  Your training is not complete unless you have both a record of completing the ICON course and the Certification Form.  FAA and DOT inspectors will cite shippers with a deficiency if the shipper cannot produce both training records.
Who is considered a shipper and requires training?  According to the regulations, shipping training is required for each person who:
offers a hazardous material for transportation,
causes a hazardous material to be transported, or
transports a hazardous material, and
performs or is responsible for performing a pre-transportation function. 
Pre-transportation functions include:
determining the hazard class of the material,
selecting or filling the packaging (primary and/or secondary containers),
securing a closure on a package or container containing hazardous material,
marking or labeling a package,
preparing the shipping paper or reviewing the paper for compliance,
providing your name/number for emergency response information, and
importing a hazardous material and providing the shipper with information as to the applicable shipping requirements.
Note that the training requirements do not just apply to individuals who put their name on the Shipper's Declaration or Air Waybill.  If you are providing hazardous material (Category A or Category B, Biological Substances) for shipping, providing emergency response information or have any responsibility in packaging or packing that material to be shipped, you require this training.
Our ICON shipping courses are being updated to include the information in this article.  Remember, shipping training is required every 2 years, or when significant changes are made to the regulations.
---
Radioactive Material Use Approval - The Finer Points 
Use of radioactive material (RAM) at The University of Iowa is granted via the University's Broad-scope Radioactive Materials License.  This license is issued by the Radiological Health Bureau of the Iowa Department of Public Health (IDPH).  The license includes specific conditions for the use of RAM.  Similarly, each investigator that wishes to use RAM must apply for the privilege by providing detailed information to EHS.  This information is then reviewed by the appropriate committee, depending on whether or not the radioactive material will be used in humans.  The information submitted must include the type and quantities of RAM to be used and stored, the protocols involving RAM, and specific safety information related to use, handling, and storage of RAM.  Approval for use includes the requirements to maintain an accurate inventory of RAM, document contamination and ambient radiation surveys, and completion of radiation safety training by all staff using RAM.
From time to time, investigators at The University of Iowa will transfer to the VA Medical Center, or vice versa.  Each institution has different regulators (IDPH for UI, VA/NHPP for VA) and its own approval process for the use of RAM.  As such, approval to use RAM at one institution does not automatically permit use at the other, even if it is for the exact same materials and procedures.  Investigators moving from one institution to the other will need to re-apply for permission to use RAM at the new institution.  The process is very similar, so if you have already gained approval at one location, it will be pretty straightforward to complete the application for the new area.  Contact Radiation Safety at the VAMC (338-0581, X 5753) or at the University (335-8501) for guidance on applying for radioactive materials use.