Radioactive Material Resolutions
Resolution #1
Although the holidays are a time for giving and sharing, this does not necessarily apply to radioactive materials.  EHS would like to remind radioactive materials users that material acquired under one investigator's authorization may not be shared with or given to another investigator unless:
The investigator receiving the material has a current radioactive materials authorization and is approved for the material being received.  The investigator must also be approved for the protocol for which the material will be used.
An 'On Campus Radioactive Material Transfer' must be completed to document the type and quantity of material as well as the transferor and transferee.  The form is found on the EHS website.
Resolution #2
Radioactive waste has a way of gathering dust, especially if you are not a frequent user.  If you have radioactive waste that has been in your lab for some time, contact EHS to schedule a pickup.  This is recommended even if the containers are not full.  To schedule a pickup, please complete the online "Radioactive Waste Pickup Request Form."
Also, prior to changing lab locations within the University or leaving altogether, please contact EHS in advance so that waste can be collected prior to your relocation.  For more information on lab close-out requirements, refer to the "Lab Close-Out Notification" form on the EHS website.
EHS wishes everyone a happy and safe new year! 
Fire Extinguishers
If a fire extinguisher is used in your lab or facility or around any University building, that use must be reported by calling 911 as soon as possible, even if the incident has been controlled.
If you find an uncharged extinguisher, need a new/replacement extinguisher, or have questions about inspections, maintenance or need evaluations, call the FM Electronic Shop (335-5125).
For "hands-on" fire extinguisher training, contact the UI Fire Safety Coordinator at 335-5389.
Overview of Controlled Substances Used in Research Labs
Compliance
The DEA and State of Iowa rules and regulations must be followed and documentation of controlled substance inventories maintained by Principal Investigators (PIs) who purchase, dispense or destroy controlled substances that are used in their research.
EHS has developed a detailed guidance document entitled Laboratory Guideline for Managing Controlled Substances in Research Laboratories (CSG).
Registration
Prior to the purchase and use of controlled substances in research, PIs must register with the Iowa Board of Pharmacy Examiners (IBPE) and the Drug Enforcement Agency (DEA).
The IBPE registration can be completed by downloading the pdf file. The IBPE registration must be completed first and the registration approval received prior to initiating the DEA registration process.
After receiving approval from the IBPE, an application to the DEA may be initiated. Click on the following link to access the online application to register with the DEA.  When completing the online application, please note the following:

On the second screen, UI Researchers are fee exempt.
On the third screen you will be asked to provide information regarding the 'certifying official'.  This individual at the University of Iowa is Susan Klatt, University Secretary.  Her phone number is 335-3552.
You should keep a copy of the form that you submit electronically.
Secure Storage
Controlled substances must be stored in a locked cabinet with a solid door in an area that is locked when it is not occupied.  Access to the room and the secure safe/cabinet must be kept to a minimum number of authorized users.
Receipt of Controlled Substances
A receipt log (also known as receiving log) for controlled substances must be maintained at each location where controlled substances are stored.  A separate page should be maintained for each controlled substance.
Dispensation/Usage Log
Daily use of controlled substances for research or surrendered for disposal must be documented using appropriate internal forms, invoices and DEA forms.
Disposal
Any amount of controlled substance waste generated in nonclinical research must be destroyed only by a member of the IBPE or DEA/IBPE registered reverse distributor, after completing the appropriate DEA 222s or invoices.  Expired controlled substances must be disposed of only through a reverse distributor.  For assistance with this, contact Bill Murray at 335-4624.
Inventory Records
The PI must keep all records of inventories and logs of controlled substances for a period of at least two years after disposal of a controlled substance.
Inspections
Inventory and disposal records must be available for inspections by IBPE or DEA, and copied, if requested.
EHS Contact
Please contact EHS at 335-5801 (or Bill Murray at 335-4624) for assistance in discarding orphaned controlled substances.
The Large Hazardous Waste Label

Do you know how to properly complete a large hazardous waste label? Use this label on containers of wastes that have been used or spent. In other words, waste that is not in its original container. Every container to be picked up by EHS must have a waste label. The label must be attached to the container when waste is first placed into the container.
Complete the label using pencil, as ink will not stand up to solvents in the event there is a spill.
Components must add up to 100%.
Do not use abbreviations for chemical names.
Record the pH if the solution is aqueous.
Following these instructions will ensure that you remain in compliance with EPA regulations and that your waste containers will be removed quickly.
EHS Waste Holiday Pickup Schedule
Click here to view our updated waste pick-up schedule for the upcoming University holidays.  Requests must be submitted by 11:00 P.M. the day before scheduled pickup.
Controlled Substances/Drugs: Using the Online EHSA Chemical Inventory to Track Expiration Dates
Expired drugs are a regulatory issue.  Adding these drugs to the online EHSA chemical inventory, with expiration information, can help labs using controlled substance track approaching expiration dates. Once these dates are entered along with the pertinent chemical/drug information, the inventory items can be displayed by expiration date on the 'Inventory' page.  Expiration dates can be entered for any chemical, not only for controlled substances.
To display inventory items by expiration date, simply go to the Inventory page of interest and click on "Show Chemicals with Expiration Dates."  Items highlighted in red are expired or will expire within 30 days.
(Please note: Adding your controlled substances into EHSA does not replace the need for official controlled substances documentation.)
For more information on Controlled Substances in Research Labs, please visit the EHS website.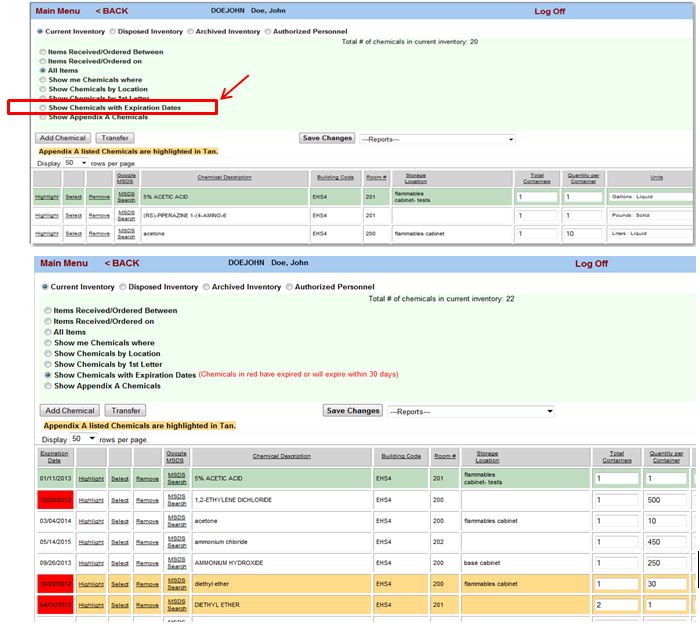 Publish Date:
Wednesday, January 2, 2013