After all sections have been completed, navigate to the "Submit rDNA Protocol" section in the drop-down menu.
A spinning arrow icon will appear while the system is performing its check of each section.  A notification will appear within the page if errors have been found and the protocol cannot be submitted.
The sections containing errors can be identified by navigating to the drop-down menu in the tool bar:

Unanswered questions (or incomplete answers) are indicated by a red "caution" triangle and a red numeral (indicating the number of errors) next to the section title in the drop-down menu.
A green checkmark is used to indicate a section in which all required questions are complete.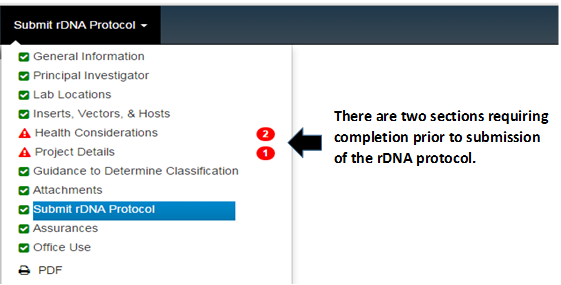 Once all errors are addressed, navigate back to the "Submit rDNA Protocol" section in the drop-down menu.  The "Submit to IBC" button at the bottom of the page will be active only after the validation process is complete, and any incomplete information and/or errors in the form have been addressed. Click on the "Submit to IBC" button to submit the rDNA protocol for review.
Upon submission of the rDNA protocol, a notice will be sent to EHS Biosafety Staff indicating that your rDNA protocol has been submitted and is ready for review.
Once you have submitted the rDNA protocol for IBC review, you will no longer be able to edit the submission. Editing will be enabled upon receiving a request for revisions e-mail, or by contacting the Biosafety Office at EHS and requesting the submission be returned for revision.