---
WHEN WORKING WITH HF IN THE LAB, DO NOT WORK ALONE.
Due to the unique physiochemical properties of HF, additional precautions are required, as compared to other inorganic acids.

Researchers must thoroughly wash their hands after handling HF bottles and reaction vessels.

Hands-on training should be provided to all researchers working with HF under the direct supervision of the PI or Lab Manager.
---
The work area must be designated for HF use. Signage (warning notice) must be posted at the fume hood or door to the room when HF is used.
Depiction of Example Signage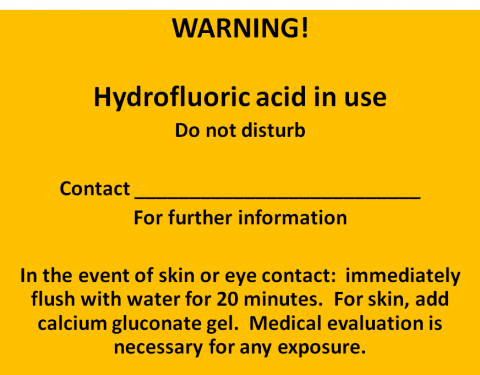 HF specific signage is not required on a storage cabinet when it is kept within a corrosive storage cabinet ( e.g., an acid cabinet under the fume hood).
If HF is used on a daily basis or used frequently every week, the HF bottle can be stored within a fume hood with a warning sign indicating "HF is stored in this hood."
A standard operating procedure (SOP) should be implemented for HF work. The SOP should include process description (e.g., heated HF process, silicon wafer or glass surface cleaning and etching, sample digestion, HF use quantities, concentration, and temperature, etc.), PPE (manufacturer, model and type), process specific safety precautions, container labeling, emergency/medical treatment, spill cleanup, and waste disposal. A site specific HF procedure should include the location of the eyewash and shower.
At a minimum, a rubber bottle carrier should be used for transporting HF bottles between the storage cabinet and fume hood. A fully enclosed secondary container is recommended to protect the primary container during storage and transport.
Rubber Bottle Carrier and Enclosed secondary container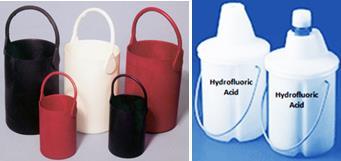 For high risk HF operations, a daily preoperational checklist including first aid kit, PPE, and spill cleanup supplies may be implemented by the PI.
Only use labware made of PE, PP or PTFE.
A buddy system such as a two-person rule is encouraged for high risk operations (see Appendix B). A buddy system allows less experienced researchers and undergraduate students to learn more quickly from close and frequent contact with an experienced researcher in the lab.