First Aid Kit
---
The location of an HF-specific first aid kit must be known to everyone in the lab and must be within quick reach of the designated fume hood or HF work area.

The contents of the HF first aid kit should be verified prior to the start of HF work each day.
---
The injury and illness prevention measures for HF-handling labs require stocking of calcium gluconate gel (CG gel) in the HF-specific first aid kit.  Calcium gluconate eyewash solution (CG solution), and a container of antacid tablets (for example, regular strength antacid 0.5 g CaCO3 per tablet, 150 tablets) are also recommended.
Typically, an expiration date is noted on CG tube and the packaging.
Whenever possible, CG concentrate or gel should be stored in a refrigerator.
Prior to handling HF in the laboratory, researchers should ensure the availability of an unopened tube of CG gel (skin protection), CG solution (emergency eye wash) and that they have not passed their useful shelf life.
Calcium carbonate antacid tablets are to be used as first aid to treat accidental ingestion as a first aid.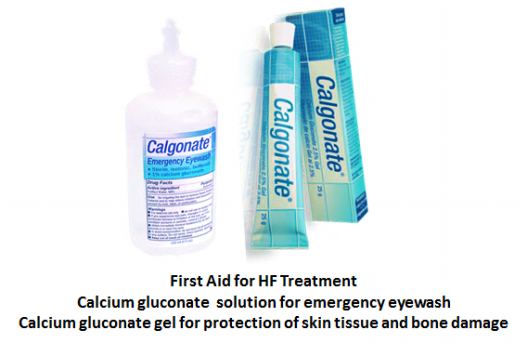 On an as-needed basis, calcium gluconate slurry or gel can be prepared in-house by adding 2.5 g calcium gluconate in 100 ml of water soluble lubricant, such as K-Y Jelly.
When needed, crushed calcium carbonate tablets can also be used to treat a small incidental spill, typically less than 2 ml.
Emergency/Medical Treatment
---
First aid measures MUST BE started within seconds in the event of HF contact in any form or concentration!

If HF is not rinsed off immediately after the exposure, severe burns and skin damage will definitely occur.

Even at very low concentrations, HF can be irritating to the respiratory tract, eyes, and skin.
---
Without delay, rinse the affected skin area with water at least for 20 minutes and apply CG gel to bind the fluoride ions which prevents further tissue destruction. Even if the affected employee feels no pain, the affected area must be immediately rinsed off with copious amount of cold water at least for 20 minutes, followed by application of CG gel to the affected skin area. Researchers must then seek immediate medical attention for HF burns BY GOING TO THE UIHC EMERGENCY TREATMENT CENTER (ETC).
If the spill has occurred near the eye, eyelid, or eyelash, irrigate exposed or irritated eyes with cold water for at least 20 minutes. The 20 minutes may be limited to 5 minutes only if a CG eye wash solution is readily available and is used immediately after the 5 minutes of cold water rinse, and the individual proceeds to ETC without delay.
Ingestion of HF can cause severe mouth, throat and stomach burns. In case of ingestion, dilute the acid by giving large quantities of water and eight to twelve Tums®, Rolaids® or Walgreen antacid tablets, and proceed to ETC without delay. DO NOT induce vomiting.
If no one is immediately available to assist you or drive you to ETC, call 911 and let them know you have a medical emergency with HF exposure such as splatter near the eyelid or other parts of the body.
A medical evaluation is necessary for any exposure to HF. Additional medical treatment/consultation should follow with appropriate medical specialists for eyes and/or skin burns. For detailed medical treatment, please review the Honeywell reference document, "Recommended Medical Treatment for HF Exposure."