New: Electronic Dosimeter Service Forms
Two EHS dosimeter forms are now electronic online forms.  The Dosimeter Change in Service Form is used to reactivate a dosimeter for an individual who has previously had dosimeter service at UI, delete badge service, add additional dosimeters, change a mailing address, name change or to change the MFK.  The Dosimeter Request for Service Form is used to request a radiation badge for a new individual.
If you have any questions please contact Barb Vitense at 335-9550.
---
Chemical Inventory 60-Day Review: A "How-To" Reminder
Every 60 days, labs must verify the content of their chemical inventory to facilitate Department of Homeland Security (DHS) reporting requirements.  Following is a reminder for how to verify your inventory in the new program:
Log-in to the system with your University of Iowa HawkID and HawkID password (not your healthcare ID/password).
Review the chemicals in your inventory. Confirm the list is accurate or make any needed changes.
On the Main Menu page, click "Chemical Review Statement."
Select the appropriate date from the drop-down. The system does not automatically change the date for you!
Click "submit."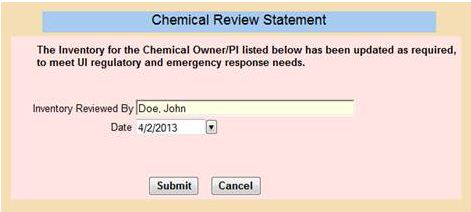 Note: The PI or area manager's name will automatically be listed in the "Reviewed By" field as they are ultimately the responsible party.  You will not be able to change the PI's name.
Browsers: Firefox, Chrome and Internet Explorer are recommended.  The date drop-down does not work in Safari.
If you have any questions or find any problems, please contact Rachelle Justice at 353-4692 or Laurie Taylor at 335-8031.
---
New: Controlled Substance In-House Disposal Procedures
The disposal process is the final action necessary to ensure proper management of controlled substances.  As of April 2013, EHS has been approved by the Drug Enforcement Administration (DEA) to dispose of controlled substances through the use of an approved procedure.  Details on how to dispose of controlled substances used in research can be found on the EHS website.
Each licensed researcher is ultimately responsible to ensure controlled substances are properly disposed of and all necessary disposal forms are completed and submitted to the appropriate agency. To dispose of outdated, damaged, or otherwise unusable or unwanted controlled substances, contact Bill Murray at 335-4624.
---
Compatible Chemical Storage Quiz
Choose the best answer.  Answers may be researched in chemical storage reference materials on the EHS website.
Select where to store a 4 liter bottle of ethanol
a.  In a cold room to maintain the quality longer
b.  In a flammables cabinet with hexane and acetone and chloroform
c.  Under the sink
d.  Next to the Bunsen burner
Select where to store a 500 ml bottle of chromic acid
a.  In a cabinet next to sodium hydroxide solution
b.  Under the fume hood on the shelf above triethylamine
c.  In the cabinet under the fume hood in its own secondary containment inside a tub holding a bottle of nitric acid
d.  On a metal shelf above the lab bench
Select where to store a bottle of solid bis-acrylamide
a.  In the liquid acids cabinet
b.  On the shelf with some other solids under a shelf holding several bottle of solvents
c.  On the shelf that also holds sodium citrate and magnesium chloride
Select where to store a chemical with a Yellow storage color code on its label.
a.  Store separated from both combustible materials and flammables
b.  Store in the tub under the fume hood with the Red storage color-coded containers and Blue storage color-coded containers.
c.  Store in a flammables cabinet
Select where to store a container of hydrochloric acid
a.  In the cabinet with TEMED (tetramethylethylenediamine)
b.  On the epoxy –coated shelf above a group of solid chemicals that includes potassium cyanide
c.  On the epoxy-coated shelf under the fume hood with phosphoric acid and sulfuric acid
Select where to store a bottle of tetrahydrofuran
a.  In the flammables cabinet in the front of the shelf so it is easy collect for periodic testing
b.  In the flammables cabinet way in the back
c.  Next to the heat block.
d.  On the shelf next to ammonium nitrate
If you have questions about chemical storage in labs, you can contact Rick Byrum or LuAnn Hiratzka.
Answers
b.  Flammables should be stored in a flammables cabinet.  Not-intrinsically reactive or flammable liquids like chloroform may be stored in the flammables cabinets with non-reactive flammables. Ethanol should be kept away from flames.  Cold rooms can recirculate vapors so ethanol and other chemicals that can release hazardous vapors should not be stored in cold rooms.
c.  Acids may be stored in the acid cabinet side under the fume hood but oxidizing acids should be segregated from other acids by placing them in a separate secondary container. Acids can corrode metal shelves.  Acids should be segregated from bases.
c.  Not intrinsically reactive or flammable solids can be stored on a shelf together; however, do not store liquid chemicals above solid chemicals to prevent undesired reactions if the liquids were to leak onto the solids below.
a.  Yellow color codes most often represent reactive and oxidizing agents so should be kept away from flammables and combustible materials.  Red is normally flammable and blue is normally health hazard/poison.
c.  Hydrochloric acid is best stored with other compatible inorganic acids. TEMED is an organic base. Bases should not be stored with acids.  It is very important to keep cyanide chemicals away from acids.
a.  Tetrahydrofuran is flammable so is best stored in a flammables cabinet.  Since it requires periodic testing for the presence of peroxides, it is best to keep it near the front of the cabinet.  If lost in the back, it may be forgotten and could develop a peroxide concentration that would cause it to become shock-sensitive.  Also, THF should be kept away from heat and oxidizers such as ammonium nitrate.
---
Responsibilities of Principal Investigators
Due to a recent incident of noncompliance, the Institutional Biosafety Committee (IBC) would like to remind Principal Investigators (PIs) of their obligations in managing their research projects.  PIs are faced with many regulatory requirements that must be addressed prior to beginning work on and during the management of their research.   In response to an ever increasing regulatory burden, many PIs delegate to subordinate staff the responsibilities for completing the paperwork required for obtaining regulatory approvals and for post approval implementation of required regulatory processes.  
While such delegation of responsibility is appropriate, it is important to emphasize that PIs must properly supervise subordinate staff as they carry out these responsibilities.   Moreover, it goes without saying that PIs must perform detailed reviews of all regulatory documents prepared by subordinate staff before signing and submitting them for internal review.  Ultimately, it is the PI who will be held responsible for the information contained in the regulatory documents submitted and for the implementation of the required regulatory processes once a research project is under way. 
---
OSHA Concludes Fatality Investigation at San Francisco VA Medical Center Research Laboratory (Originally published by OSHA)
OSHA has issued a notice of unsafe and unhealthful working conditions to the San Francisco Veterans Affairs Medical Center after concluding its investigation into the death of Richard Din, a research associate at the center's research laboratory in April 2012. The notice consists of three serious violations for failing to protect laboratory workers researching Neisseria meningitidis, a bacterium that can cause meningitis.
The three serious violations include failure to require workers to use a safety enclosure when performing microbiological work with a viable bacteria culture; provide training on the signs and symptoms of illnesses as a result of employee exposure to a viable bacteria culture, such as meningitis; and provide available vaccines for workers potentially exposed to bacteria.  A serious violation occurs when there is substantial probability that death or serious physical harm could result from a hazard about which the employer knew or should have known. For more information, read the news release.
---
Radiation Survey Meter Basics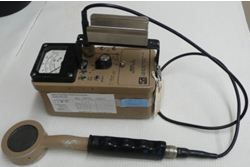 If you use radioactive materials, you are probably familiar with Geiger counters. You may know they are used for conducting radiation surveys, but you may not know some of the finer points of using these instruments, or all the information they can provide.  Prior to using a radiation survey meter, the following checks need to be performed to ensure it is functioning properly:
Check the calibration date of the meter.  If the date of the last calibration is not within one year of the date you are using the meter, you cannot use it for a documented survey.  You can contact EHS to have your meter calibrated, and we may be able to provide you with a loaner instrument while yours is being calibrated.
Check the battery.  Most survey meters either have a switch position or a button labeled 'Battery Check' for this purpose.  When the unit is set to 'Battery Check', the meter will display whether or not the battery has sufficient charge.
Check the meter response by turning it on and holding the detector up to the check source affixed to the side of the meter.   The meter reading should be very close to the value written on the calibration sticker in the "Reads" blank under 'Dedicated Check Source'.  If not, contact EHS so the meter can be checked out and re-calibrated, if necessary.
In most cases, people doing surveys with a Geiger-Mueller (GM) detector are looking for a simple yes or no answer to the presence of radioactivity above background.  However, the efficiency values listed for several different radionuclides on the calibration sticker can help you quantify radioactivity to some degree.  Example:  You are surveying a lab bench where P-32 is being used and get a reading of 52,000 counts per minute (cpm) on your meter.  To convert this to activity, which is expressed in disintegrations per minute (dpm), you will need to use the efficiency value listed for P-32.  By looking at the side of the meter, you note an efficiency value for P-32 of 28.5%, as an example.  So the activity of the contaminated area would be 52,000 cpm / .285 =  182,456 dpm.  You can then convert dpm to uCi as follows:  182,456 dpm / 2.22E6 dpm/uCi = 0.082 uCi.
Contact EHS at 335-8501 for any other questions you may have regarding use of survey meters.
---
UCLA Lab Death Update
An article in our March 2012 Lab News reported on an accident in which a Research Assistant was killed more than four years ago while she was working in the laboratory of a UCLA chemistry professor.
On Friday, April 26th, the professor was ordered to stand trial on felony charges. The professor is charged with willfully violating state occupational health and safety codes and faces up to 4 ½ years in prison, if convicted. The LA Times story can be found here.