Biohazard Tub Lids
EHS has been notified by the University's biohazardous waste disposal contractor, Stericycle, that over the past two months lids to the red biohazardous waste tubs have been disappearing at an alarming rate from the MEB and BSB storage rooms.  Over the past three weeks more than 40 lids have vanished from these two areas. 
When getting red tubs for your lab, be sure to take only one lid for each red container and return any extra lids that you may find in your lab.
---
Researchers' Responsibilities Related to the Use of Chemicals
The following information is an excerpt from the UI Researcher Handbook section on "Working with Chemicals."  The Chemical Hygiene Plan (CHP): A CHP must be implemented in each lab by the Principal Investigator.  EHS provides a generic written program that includes sections on all aspects of safe chemical use and management including safe compatible storage and minimization of hazards during use.  PIs are expected to include laboratory-specific procedures as attachments to the CHP and, in particular, procedures for dealing with particularly hazardous chemicals.  Training, including lab-specific training, is also required by the Lab Standard.  Labs should include emergency preparedness and response training and resources to staff as part of the required training. Several OSHA and NIOSH documents related to laboratory safety and the CHP can be accessed through the EHS website.
---
OSHA Required Training Reminder
| | |
| --- | --- |
| | Do you know "GHS Labels and SDS Information Training" is mandatory?  All laboratory employees, including research students who work with or could potentially be assigned tasks where they may be exposed to hazardous chemicals, must be compliant with the OSHA mandated "GHS Labels and SDS" training by November 30, 2013.  There are two options to complete the training, as detailed below: |

---
Reminder: Laboratory Close-out Procedures
When closing out a lab, the Principal Investigator (PI) and PI's department are responsible for ensuring that all hazardous materials (biological, chemical and radiological) are removed from the lab space.  To assist with this, EHS has created a laboratory close-out procedure.
The new procedure provides a timeline for notifying EHS as well as a checklist that provides guidance on specific issues related to transferring, transporting, or disposing of hazardous materials commonly found in labs.
Additionally, equipment, supplies or furniture, whether staying in the lab or being sent to Surplus, must be properly cleaned or decontaminated. Complete an Equipment Clearance Record Form for items that are being sent to Surplus.
---
New EHS Staff Member
| | |
| --- | --- |
| | EHS welcomes Mitch Kang to its Environmental Programs Section. Mitch is an Environmental Safety Coordinator, and his primary responsibilities will be with chemical, biohazardous and radioactive waste collection and management.  Mitch is from Iowa City.  He attended West High and graduated from the University of Iowa with a B.S. in Microbiology and an M.S and M.P.H. in Occupational and Environmental Health.  Mitch can be reached at 335-4391. |
---
Safe Lab Practices Highlights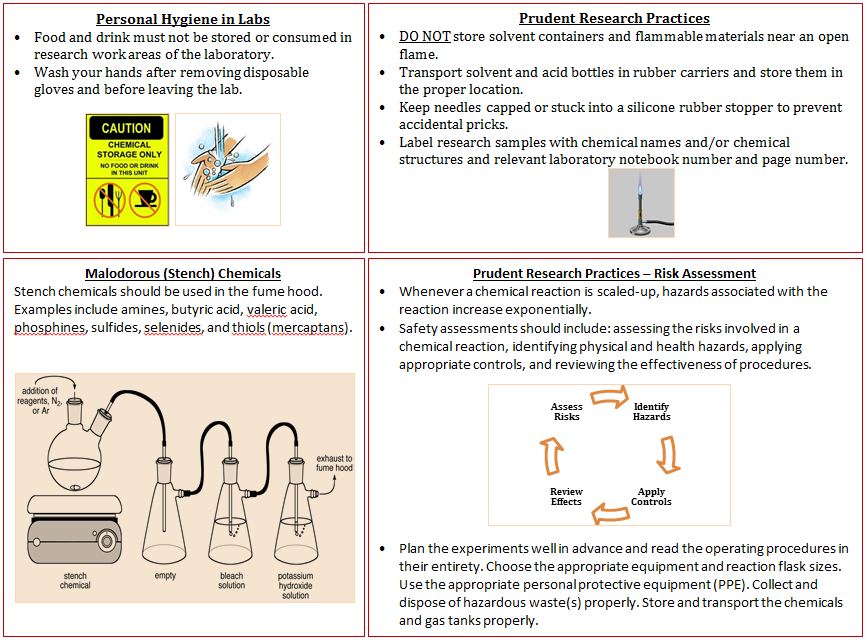 ---
Did You Know?
The human body contains enough carbon to provide 'lead' (which is really graphite) for about 9,000 pencils.